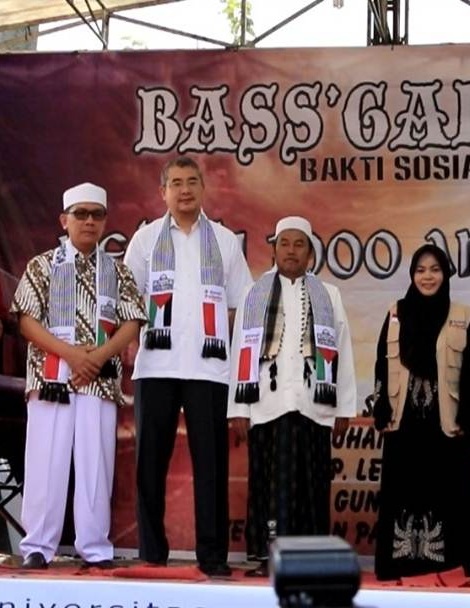 Universitas Esa Unggul and Komunitas Motor se-Jabodetabek Held a Charity Event for One Thousand Orphans
Esaunggul.ac.id, Esa Unggul Motorcycle Brotherhood (EMBRO) with Komunitas Motor se-Jabodetabek held a grand event to help one thousand orphans  (Sunday, September 16, 2018). This event took place in Yayasan Yatim Piatu Insan Madani, Pamijahan 1, Gunung Bunder, Bogor.
Rector Dr. Ir. Arief Kusuma, M.B.A, gave his opening remarks by saying that this event was intended and became a good moment to give a hand for local residents, especially people in need, with a participation from the local community, academicians, and bikers. Moreover, he added, this program could strengthen the relationship between them.
"This event has proven and united us, in which, positive activity could be run by a motor community through sharing and fellowship with others, said Arief at Pamijahan 1, Gunung Bunder, Bogor.  (Sunday, September 16, 2018)
Meanwhile, the committee chairman, Sauri Arek, stated that this event was made to commemorate Islamic New Year (Tuesday, September 11, 2018). Furthermore, this occasion was aimed to change the perception of the bad image of the Bikers among the public.
"By this occasion, we would like to share our message and social soul as a motor community in Jabodetabek. We also wanted to alter public assumption when they look at us. I hope this good action will be held again in the following years. In addition to charity, we provide a free health check, training from Palang Merah Indonesia,  and fun games. "