I.  FOREWORD
1.1.  Background
Student Activity Unit (abbreviated as UKM) is a place for students outside the classroom to develop certain interests, talents and expertise. This institution is a partner of other intra-campus Student organizations such as student senates and student executive bodies, both at the level of study programs, majors, and universities. This institution is autonomous, and not as a branch of the executive or student senate.
The student activity unit consists of three interest groups:
Sports activities unit, (Basketball, Soccer,Volleyball,UKM)
Art activity unit. ( Band, UKM, Drama, Art and Culture, etc.)
Special activity units (Scouts, Student Regiments, Student Presses, Student Cooperatives, Spiritual Units, Nature Lovers Students (Mapala), etc.).
Due to great interest of students to make music, the UKM Band was formed within Esa Unggul University. UKM Band is a forum for Esa Unggul University students to develop their interests and
talents in the field of music. The UKM Band itself has been formed since 2003 which has won the title as the best UKM among all UKMs in Esa Unggul University in 2006.
I.2.    Goals and targets
Goals of Band UKM are :
Making the campus a place for creativity in music.
Channel students' interests and talents in music.
Channel student's potential to further develop their knowledge in music.
As a campus delegation in music competitions both from campus and festival.
Untuk menunjang kegiatan yang berjalan secara rutin dalam UKM BAND.
To support activities that run routinely in UKM BAND.
To provide proposals for means of supporting the availability of tools to play music such as guitars,
drums, bass and other musical instruments.
Targets :

All active students of Esa Unggul University who are interested in the world of music
1.3     Meaning of Logo or UKM Symbol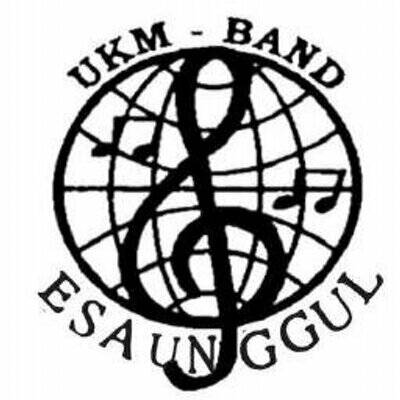 The philosophy of the circle that shows the logo of UKM is intended as a globe that contains musical notes to respresent music. Overall it can be described as a music world. The writing on the logo that reads UKM Band shows that it is an UKM band and the writing under the logo that reads Esa Unggul shows that the UKM is under the auspices of Esa Unggul University.
II.  MANAGEMENT
2.1.  Duty and authority     
| | | | |
| --- | --- | --- | --- |
| 1. | Leader | : | Have the authority to lead and coordinate activities. |
| 2. | Vice Leader | : | Have the authority to replace the leader's duties when the leader is unable to attend |
| 3. | Secretary | : | Duty to Record and conclude the results of meetings and routine activities. |
| 4. | Treasurer | : | Hold financial control in UKM Band |
| 5. | Public Relations | : | Bertugas memberikan pengumuman ketika akan ada kegiatan yang akan dilangsungkan. |
| 6. | Inventarist | : | Maintain all inventory tools in the UKM Band |
| 7. | Event | : | Organizing UKM Band event activities |
| 8. | Documentation | : | Mendokumentasikan seluruh kegiatan yang dilaksanakan oleh UKM Band |
2.2.  Board of Management
The composition of the management and members of the UKM management includes
Leader                     : Agathis Labilaridieri A

Vice Leader             : Viqz Fully Aditama

Secretary                 : Deni Azhryadi Sawati

Vice Secretary        : Deviani Jianatiyah

Treasurer                : Lino Prinda Wibawa

Vice Treasurer       : Yusina Ulfa

Public Relations     : Fadli, Sanjerry Jordan Sirait, Gondiel Naufal

Inventarist              : Antony Ryuslie, Ardra Mahardika, Heri

Event                        : Gesit Ahmad Rifai, M. Akbar Rudiansyah, Nugi Fathurrahman, Arif

Documentation      : Unggul Nirwana, Faritzi Surya Atmaja
III   WORK PROGRAM, IMPLEMENTATION TIME AND OBJECTIVE
3.1.  Activity executor / Person in Charge
1.
Routine Exercise for UKM Band members
Executor                      : UKM band members
Purpose                       : To increase their skill in band
Implementation Time  : Everyday
2. Art event entitled "Good night, Art""
Executor                    : UKM band members
Purpose                          : To combine various works of art in one night
Implementation Time    : End of 2017 or early 2018
3. Jam Session (UKM Band Musical Event )
Executor                         : UKM band members
Purpose                           : To provide entertainment to all Esa Unggul University students
Implementation Time      : Once in three weeks on Thursday
4. Band Festival between faculties
Executor                       : UKM band members
Purpose                        : Selecting a good band to be competed with a university representative band Implementation Time    : Mid-year or end of 2017
5. MUBES (Mass Deliberation)
Executor                         : UKM band members
Purpose                           : To replace the old Organizational Structure and AD-ART
Implementation Time      : Mid ear of 2018
Kegiatan-kegiatan UKM Band :